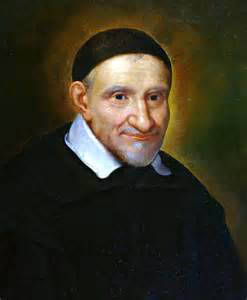 Our Mission is to help those in need with food, clothing, and household items.
Donations of food (non-perishable items), diapers, household items, clothing, and money are greatly appreciated. Items can be dropped off at the pantry or left in the Gathering Space at St. Isidore's Church or the Vestibule at Sacred Heart Church. Monetary donations can be left in the poor boxes
Hours:
Tuesdays:       9:30 am – 12:00 pm
Thursdays:     9:00 am – 12:00 pm
Phone Number:   856-691-2400
Leave a message and your phone number.
Facebook:  SVDP Vineland
Collect Prayer from the Feast Day of Saint Vincent De Paul September 27
O God who for the relief of the poor and the formation of the clergy endowed the Priest Saint Vincent de Paul with apostolic virtues, grant, we pray, that, afire with the same spirit, we may love what he loved and put into practice what he taught.   Through our Lord Jesus Christ, Your Son, who lives and reigns with You in the unity of the Holy Spirit, one God forever and ever, Amen.